Workshop with Joseph Zbukvic, day 1
We had the privilege of attending a workshop with Joseph Zbukvic, one of the world's best watercolor painters. I have been trying to get a place for many years, but his courses have always been fully booked. Last year around Christmas the places for a workshop in Girona were to be released. At exactly three o'clock I managed to press the button and pay the advance on time. It was lucky, the waiting list to join in the event of a possible cancellation is over 350 people.
So who is this popular artist?
Joseph Zbukvic was born in 1951 in Zagreb, in what was then Yugoslavia. He is self-taught and has been painting all his life. As an eighteen-year-old, he immigrated to Australia because of the political situation in his home country. There he trained as an industrial designer but soon discovered that watercolor would become his life. He quickly became successful at exhibitions and had great success in various art competitions.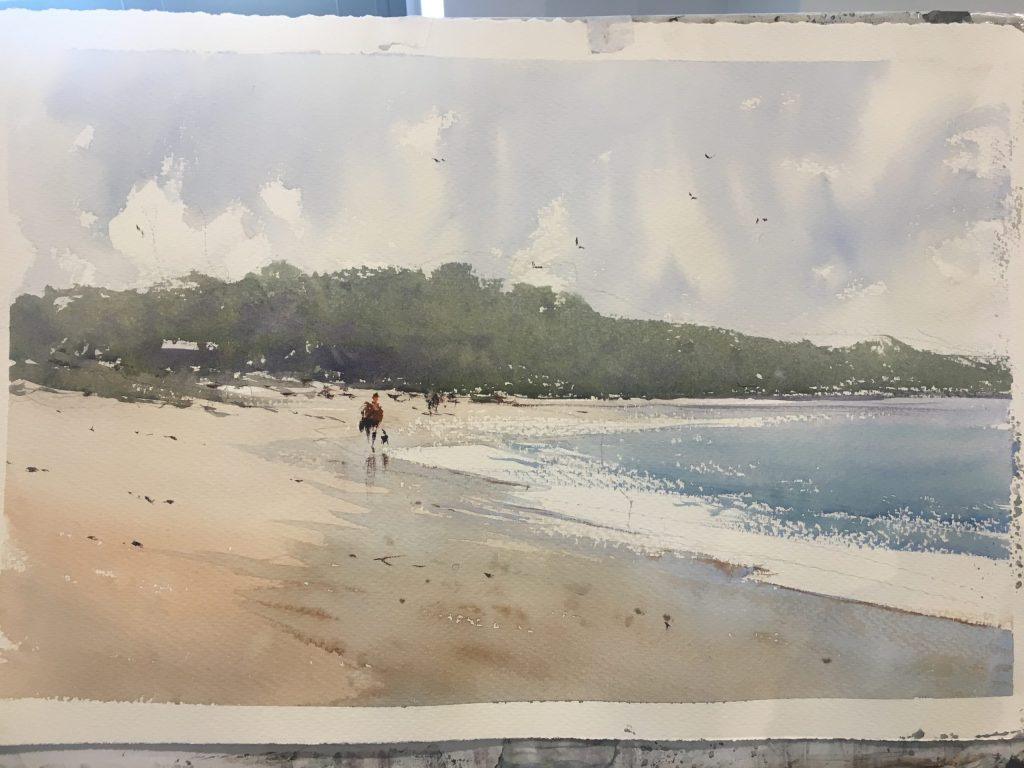 The first day we painted a studio above a bar in Girona. Joseph created a very simple picture with a beach, a mountain and a man with a dog.
This is easy, later in the week it will be much more difficult, joked Joseph. He first painted the sky by partially moistening it, leaving gaps for the clouds. Then on with a little color that made it both soft and hard edges. The beach was painted loosely and he put in some blue at the water's edge so that the wet sand reflects the sky. A few quick strokes of the brush in the water caused the paint to settle on top of the gnarled paper. Suddenly we started to see waves and how the sun glistened in the water.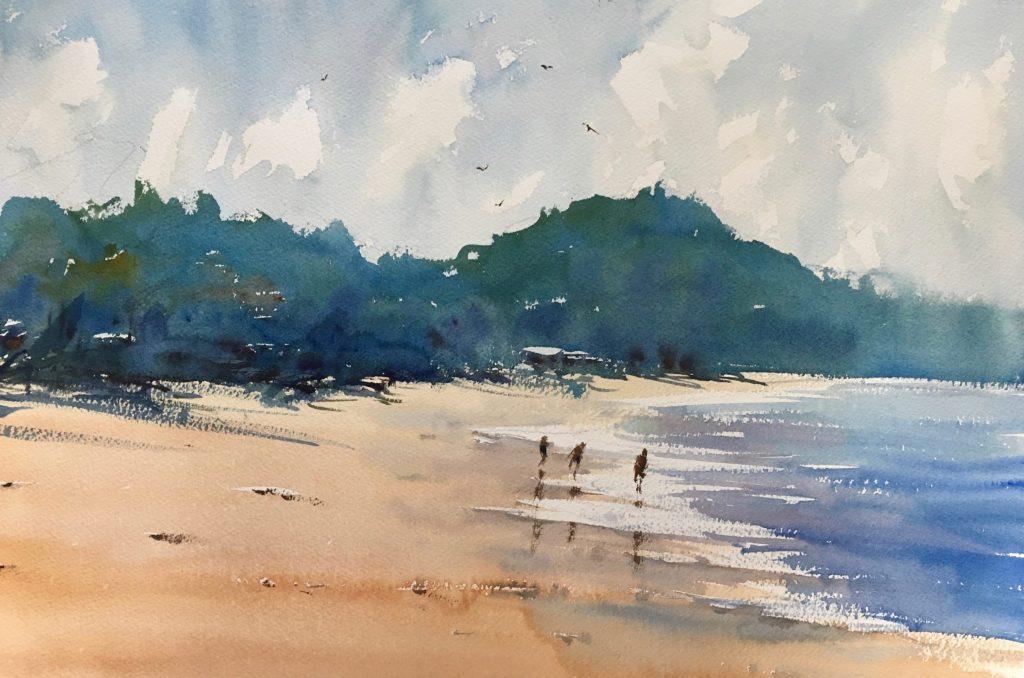 Then we would paint the same. Joseph walked around among us 20 participants and commented, he pointed out what could be improved.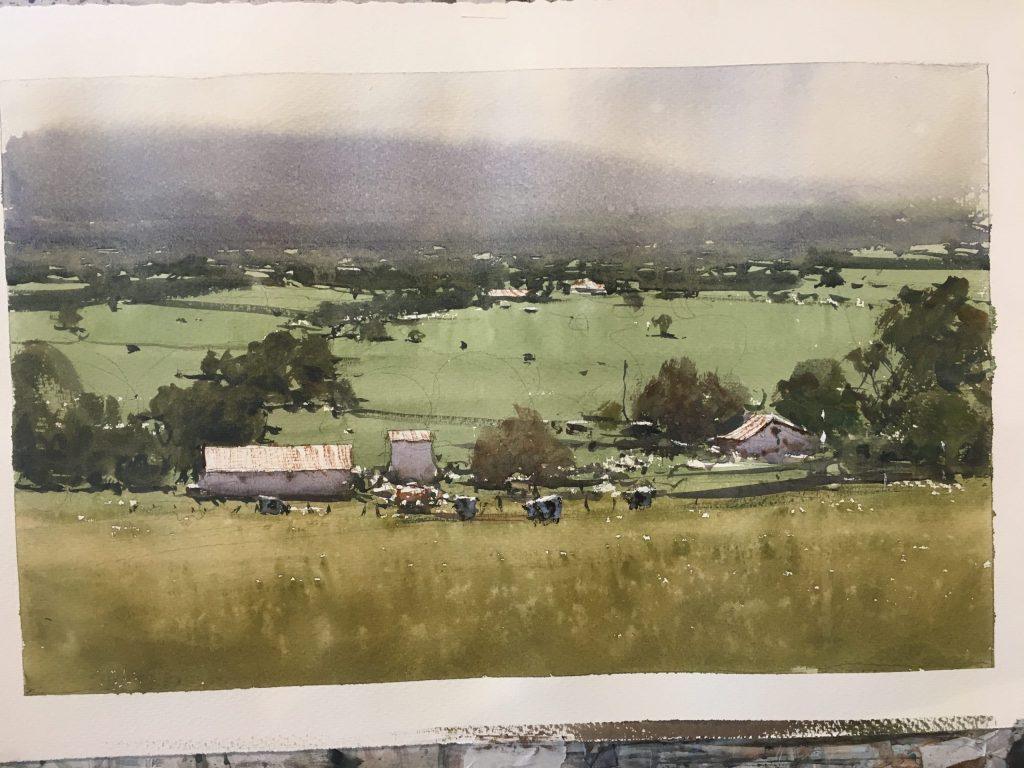 In the afternoon he painted a landscape. A photo he took from the bus was used as a reference. First the sky in the same way as before, then green landscape. Here he talked about Mr. Bead and Mr. Gravity. Mr Bead is a long drop across the paper, a small dyke of water that you can lead down without getting ugly edges. Mr Gravity pulls the pigment downwards so sometimes it can be good to hold the image on the snot, or upside down. He was careful to leave small white spots here and there. These small pieces were then turned into buildings and other objects. If you paint over the entire surface, it will be dead, explains Joseph. In the foreground put a warm color, he put a wet orange string on top that was allowed to flow down. Amazing, it looked like dry grass.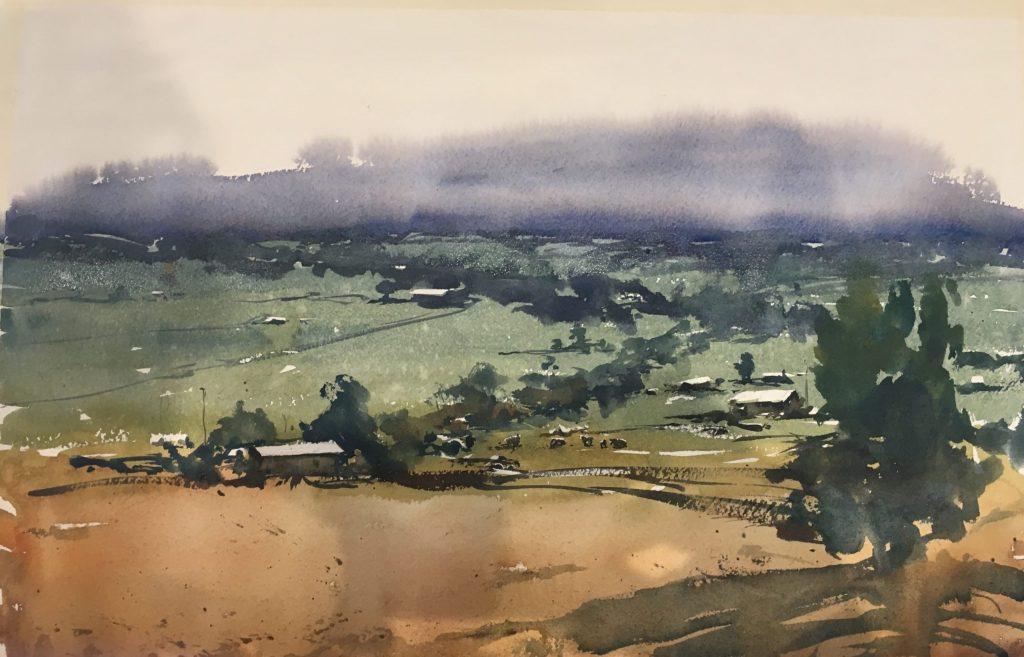 Then we had to do a similar one. It was fun. Joseph again walked around and commented. Mine turned out a bit colorful, Joseph thought.
-Maybe part of your style, he wondered.
I don't know, I think his picture is much better, while I like color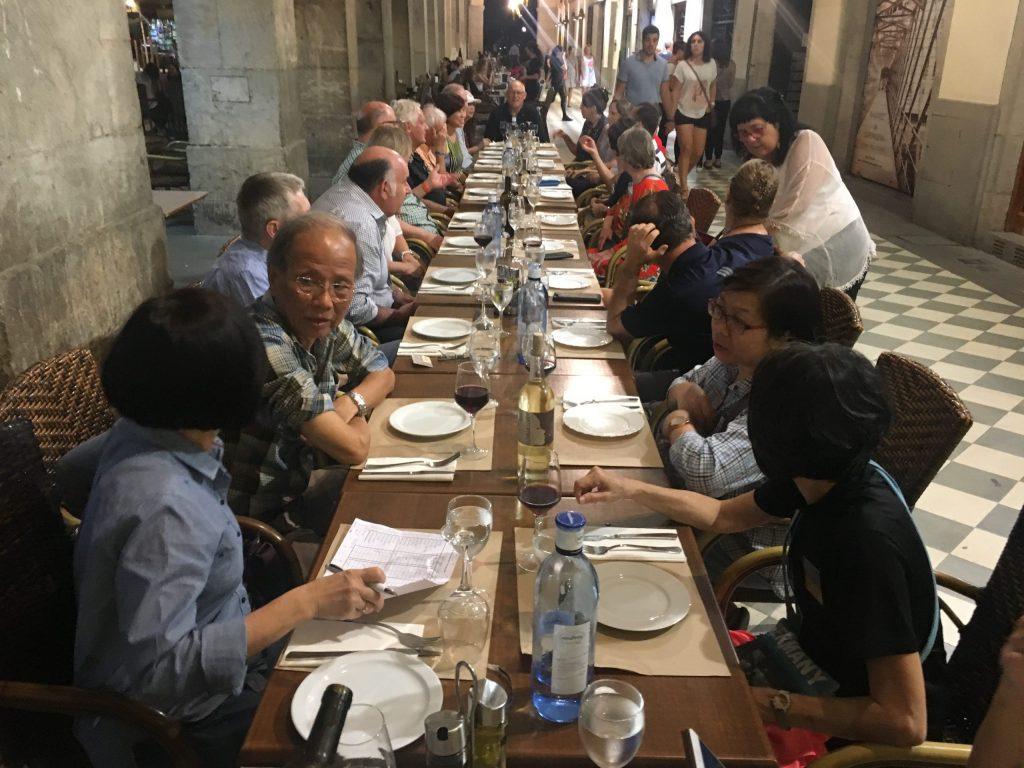 In the evening there was dinner on the street outside. We sat next to five painters from Singapore. The other participants at the workshop were from Canada, Germany, USA, France, New Zealand, Holland and Norway. We were a total of 20 participants.
We had fish for the main course.