Advanced watercolor painting
and image composition
Welcome to an inspiring workshop for those of you who are looking for a more advanced education.
We immerse ourselves in image composition, perspective theory, form and light. Furthermore, we go through Notan, a Japanese concept that I often use as support.
The theme is "Outdoor environments and composition" which provides challenges in the form of how to create light and contrasts and work with shadows and depth in the image.
The course assumes that you are familiar with watercolor as a technique and the methods and materials used.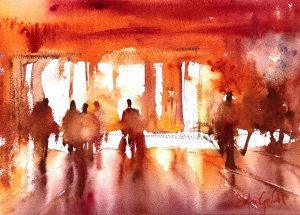 The course is led by me, Stefan Gadnell. I am a trained art teacher and have painted and drawn all my life. Started focusing on watercolor more than ten years ago. My watercolors should be spontaneous and light, not rigid and precise, but it is difficult. Painting a car with three brushstrokes requires significantly more practice than one with fifty precise strokes. But – the latter car does not come to life, it does not move. With this course, I want to help you progress towards a more vibrant watercolor.
If you would like to know more about me and see examples of my watercolors, please visit www.gadnell.com. My watercolors are also sold at several galleries around in Sweden.
We are staying upstairs at the Havspiren restaurant in Norrtälje, where lunch is also served.

PLACE:
Restaurant Havspiren, Badstugatan 10, Norrtälje
COURSE MATERIALS:
Bring your paints and brushes, pencil and eraser, watercolor paper included (Arches 300g)
COURSE LEADER
Stefan Gadnell is a trained art teacher and experienced watercolor painter.
TIME (preliminary, may change later) May 15-16, 2024, 9:00 a.m. – 3:00 p.m.
ACCOMMODATION
Accommodation is not included, but a nice place is Pensionat Granparken, which is very close.
PRICE
SEK 4 800 including VAT, which includes lunches at the Havspiren restaurant, coffee with snacks and watercolor paper.
NUMBER OF PARTICIPANTS
Max 10 (min 8)
APPLICATION
Apply to akvarell@gadnell.com, send some of your latest watercolors.
Swish a fee of SEK 500 to 076-781 05 55 when you have been accepted. Mark payment with name. Reclaimed in case of illness with certificate.
---
Here are some comments from course participants:
Good! Very good briefings!
Very good teacher who gives positive feedback. You dare to try completely new ways of working.
Very good course! I learned a lot, for example contrast, light, shadow and how to draw "old men".
I think it was very good and fun exercises.
The course is pleasant and educational. Nice atmosphere!
Very good and educational workshop, developing and rewarding.