Alvaro Castagnet: Accomplished Ambassador in a Thousand Cities
Reflections of water pooling in a rainy street in Madrid, smoke coming from a kitchen in Singapore, or the long shapes shadows of cars at sunset in New York are all moments that Álvaro Castagnet feels inspired by and depicts magnificently through his atmospheric water colour paintings. Having visited so many cities throughout his distinguished artistic career, he manages to extract that city's vibrations and deftly translates these vibes into pigment and water for all to enjoy.
This passion for the seemingly ordinary is one of the reasons that Álvaro flies around the world giving lectures, workshops, and seminars in the field he masters: watercolor. This technique, which is not so commonly practiced among internationally recognized artists, is one to which Castagnet has devoted his life and on what he has built his sterling reputation. After forty decades in the artwork, he is well-known and respected, constantly invited to lecture and teach his speciality, from Dubai to Vietnam, China to Buenos Aires where he presents master classes not only in auditoriums, but in streets, town squares or special stages which he paints on his trademark heavy-weight paper.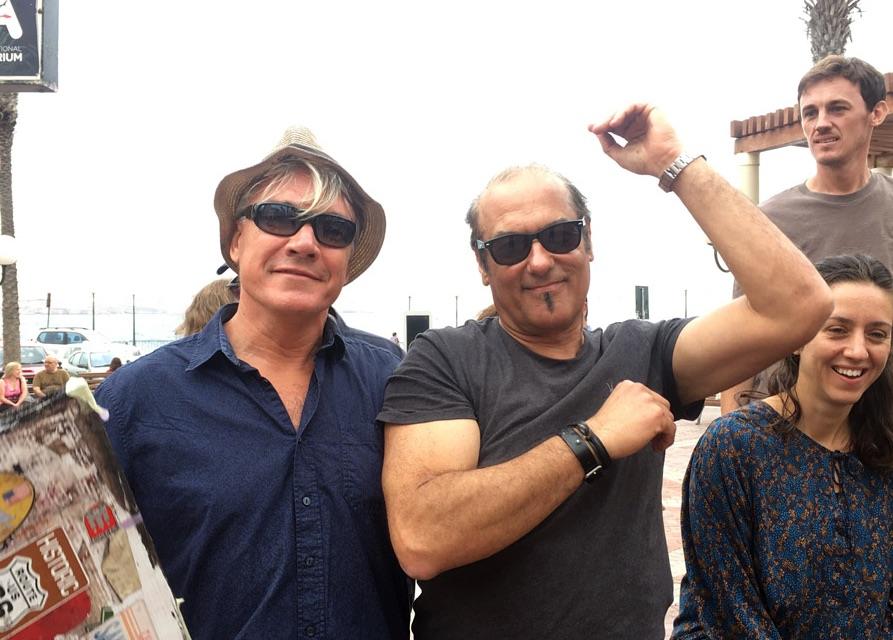 Born in Montevideo, Uruguay in 1954, the enigmatic Alvaro had already studied drawing and painting in the School of Fine Arts and in the workshop which belongs to Miguel Angel Pareja when he migrated to Australia following a love, and the dream to perfect himself in watercoloring, a technique in which the Australian school, together with the English and the American one were references in the world of plastic arts.
When he returned to Montevideo, he met the dynamic Ana María in Punta del Este. An architect from Córdoba, Argentina, Ana Maria is the backbone of Alvaro's success, supporting him in the management and logistics that come with living 10 of 12 months of the year around the world. Ana Maria's unending enthusiasm and passion for her husband's work shows in her deft coordinaton of the hundreds of yearly events Álvaro shares with professional and amateur artists, sheiks, businesspeople, or students, throughout the four corners of the world. In the 80s couple settled in Australia and lived there for almost 20 years, later returning to Uruguay with their two still young boys.
__
In Montevideo, Alvaro is well known as a charismatic painter who's routine revolves around his eclectic workshop in Mercado del Puerto in Ciudad Vieja. For the time being, his city of birth continues as the inspiring base for all his journeys to biennials, performances as contest juror, master classes or workshops from beginning to end. Another anchor point for the Castagnets where they can kick back and relax after a long tour de force is their quaint holiday home in the port town of Colonia del Sacramento.
Never one to be burdened by domestic life, Alvaro and Ana Maria travel constantly to Australia where they visit their two grown boys who have decided to settle there. Together the four of them travel to other exotic destinations to ensure the family's harmony. Gastón, their eldest son, has followed in his father's footsteps, but in the edgy field of graffiti and typography drawing and their younger son, Calvin studies Economics.
In the past year, Alvaro and Ana Maria have been to Girona, Malta, Milan, Singapore, Dubai, China, Vietnam, Russia, Estonia, France, Belgium, Holland, Denmark and endless other places where he is welcomed as a distinguished person, with professional respect, media rock star treatment, ignited by his famous talent and and trademark charisma which has enabled him to interact with people of all nationalities and the cameras.
__
Now firmly positioned in the global art market as a renowned watercolorist, every student at the School of Fine Arts or reference in the field knows Alvaro Castagnet.
In 2017, he received several international awards including the Frank V. Dumond Memorial Award of the Hudson Valley Art Association of New York, with the work called "The Bridge". Along with this accolade, his work titled , "NY Soho", an impressive record in black almost monochromatic of the façade of a building, was awarded the Silver Medal of Honour during the 150th anniversary exhibition of the prestigious American Watercolor Society. Coupled with these awards, The PACE (Plein Air Convention and Expo) in Santa Fe, California (NM) also honoured him with an award for his career and as icing on the cake he was received another honour from the American Watercolor Society (AWS) of New York.
The Dolphin Medal, granted by the AWS, is awarded to a person or organization that has made an outstanding contribution to art, especially in watercolor and the recipient of such a medal now becomes an Honorary Member of the Society.
Alvaro continues to make headway in the Chinese market also, where he received other prestigious accolades at the Shanghai Zhujiajiao International Watercolour Biennial Award.
All these awards and recognitions have not only positioned him above thousands of aspiring artists, but also allowed him to become a member of the distinguished group of Masters, putting him in a category that includes such esteemed artists as Andrew Wyeth, whom he has admired since he was a boy.
__
The general theme of Alvaro's works include urban landscape: squares, crossroads, cafés, markets, building façades which have culminated in hundreds of notable works. His technique is fast and intense. Just by watching one of the many videos that can be found on his webpage allows you to admire the profusion of pigments, liquids, brushes and fine brushstrokes which bring to life his works of art. A huge abstract stain can lead to a richness of details which can be interpreted in many ways.
For example, from a large dark background, a Baroque building can emerge within just a few strokes and efficient synthesis ability. The mastery of light and its contrasts, of the expression of climatic factors such as fog, rain or sunset light add narrative to the formal style. When it is painted, the exact time in which a thin layer leaves its shades in infinite gradients is measured, which results in an abstract superposition generating an artwork both figurative and evocative.
__
On his webpage, Álvaro offers valuable tips and advise about his specific technique, allowing all those who love art to share in his work at a global level. This cutting edge schooling has been adopted by students who spread his work at varying levels, in different mediums and territories.
And through these channels, Alvaro has been able to maintain his own inimitable style, instantly recognisable in a sea of emerging or qualified artists.
Álvaro Castagnet is "living proof" one can succeed in their own right and make a difference in a an extremely competitive creative environment, all while nurturing talent and becoming world renowned by means of a constant presence, through exploration and tenacious experimentation.
You can follow Álvaro's Art, his journeys around the world, workshops, exhibitions, tutorials and communicate with him via his website. www.alvarocastagnet.net