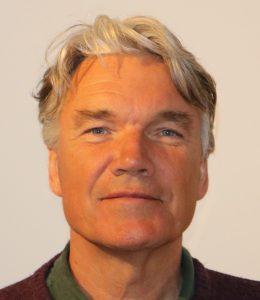 My main interest has always been drawing, painting, photography and film. When I was a kid my father bought a Super8 camera and I made animated films, both with puppets and drawings. A cartoon was "Linkan" who went fishing. I remember the lure dangled at the rod tip when Linkan wandered toward the lake in the short film. After several hundreds of drawings I got tired and the film ended abruptly with a big fish eating the happy fisherman.
In Umeå, I studied Art Teaching since it fitted well with my interests. I worked as a an Art Teacher in Linköping and Uppsala. When computers appeared in the 80s I started working digitally. I made some clip-art CD-ROM, but later also video games which BackPacker became the most famous. After working at my own company, Aniware AB, for many years it was time for do some teaching again. In addition to art, I taught also in 3D graphics, animation and game programming at Grafisk Utbildnings Center (Graphic Education Center) in Uppsala.
After ten years at GUC it was time for something completely different. 2010, me and my wife Margaretha started a guesthouse in Malta, we called the place "Blå Dörren" (The Blue Door). In Malta, I taught also in drawing and watercolor, in both English and Swedish. Also held some courses in game development for the University of Malta. It was many nice years, but now we are back in Uppsala and I work again as a teacher. In my spare time, I write books and paint watercolors. I also hold courses in drawing, watercolor and photography/composition, mostly in Uppsala, but also on Singö where we have our summer house.
Joseph Zbukvic, Alvaro Castagnet, Michael Bennett 0ch Dusan Djukaric are some of my favourites doing watercolor, I think they are incredibly talented and inspiring.
Browse happily around my site and look at my drawings and watercolors.
You are of course welcome to visit my exhibitions.
I usually keep at least twice exhibitions a year.
You can find more of my watercolors on my Pinterest Board
http://se.pinterest.com/gadnell/stefan-gadnell/
but also at
https://www.facebook.com/akvarellgadnell/
https://www.instagram.com/stefangadnell_watercolors/
Stefan Gadnell